Artists Portfolios: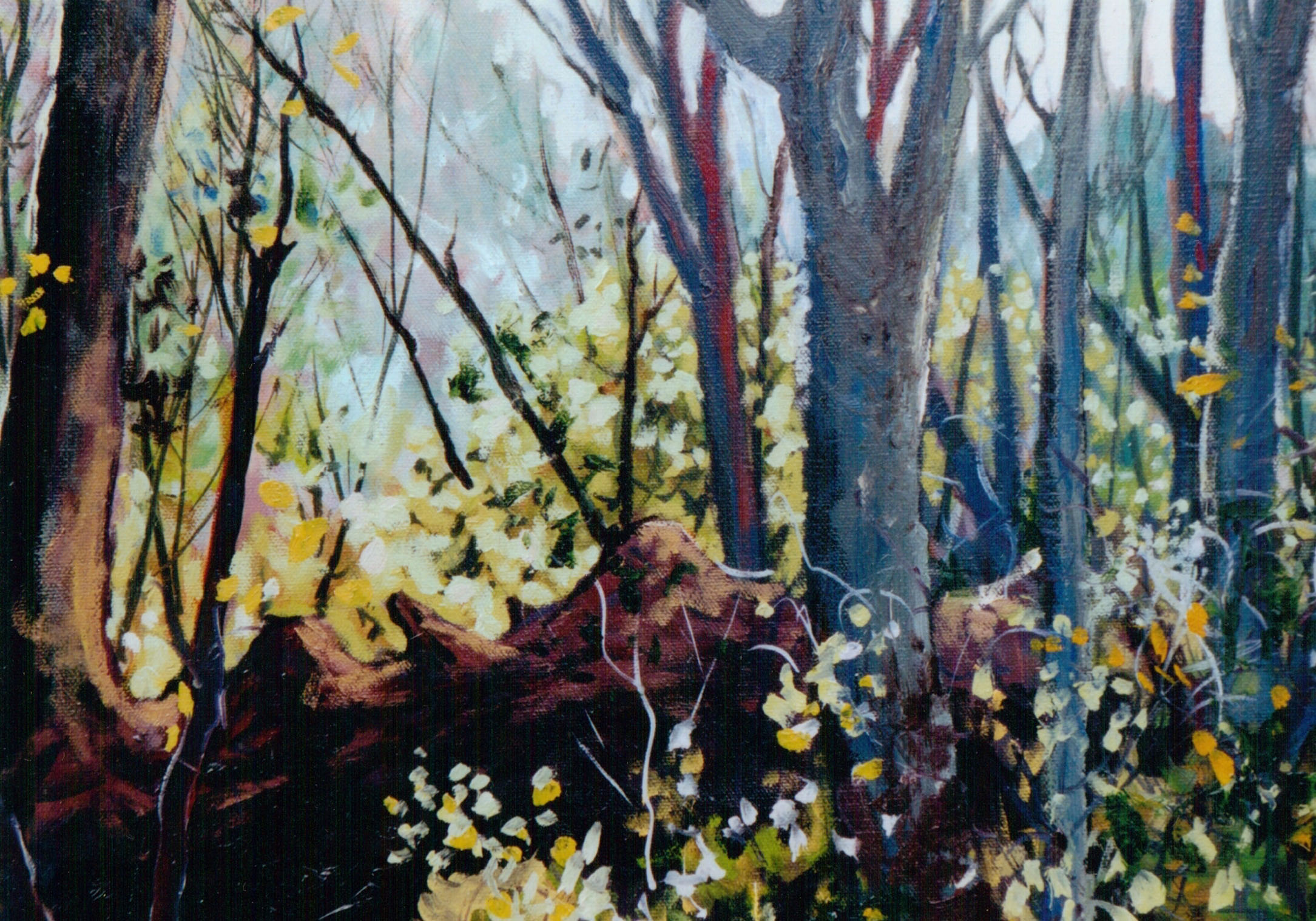 You could call this section of the website my artist's portfolio, although it is also kind of an on-line gallery of my work and of the other artists most close to me. These include my wife Patty Jerving, my grandfather Leo Croisatiere, and my daughter Faith Ferra. I have also included a small section entitled Other Artists, who are directly related to my work in one way or another.

I have been told that I can call myself a professional artist even if I only manage to sell the occasional painting every year or so. I guess that means that Vincent Van Gogh never was a professional, and that I am somehow more professional than he was. If that is the real criterion for artistic talent, I would prefer to be set in the camp with Vincent who died trying without succeeding. There is a difference between the real artist and the professional painter of pretty (or pretty horrible) decorative dust collectors. You could say the same thing about any art, craft or spiritual endeavor. Amos differentiated himself from the so-called prophets of his time declaring "I am not a prophet or the son of a prophet. I am a goat herder and a farmer of Sycamore trees. But God told me to tell you this." Strangely enough, the words of the goat-herder of Israel have had lasting value, while the professional word-smiths with degrees from the school of the prophets are nearly all lost to us. So much for being a son of the prophets, or a professional artist.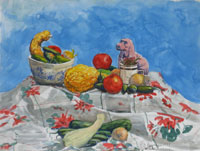 Still, I suppose that like any good dog I need to display my pedigree for folks to consider the relevance of my work in relation to the rest of the art world. Thus I will declare myself to be like Andrew Wyeth, fully equipped in a modern and post modern understanding of the arts and history (although in my case, as an auto-didact), and always incorporating those ideas into my work, yet rejecting its presuppositions. Like Wyeth, I think the best new art is always abstract, since all art is in essence abstract. There really is no such thing as true representationalism despite the photo-realist feign towards capturing reality beyond realism. I am not a realist, nor am I an abstractionist or non-representationalist. I am an artist for the love of color, form, movement and passion. Having been trained in philosophy and theology, art becomes for me a way to move beyond the white noise of what research is about and back to the raw nature of life as an emotional or spiritual release. Art is catharthis. It is the effluescent out-pouring of the human soul. It moves, for me, beyond the analytical part of my soul, giving me a chance to express myself after the deconstructive part of me has come to an end. It is, for me, where the science behind flight at last experiences the exuberance of the Wright brothers getting off the ground.

My career as an artist began when my mother gave me a box of finger paints when I was probably four. (She never allowed me to have them again!) After starting kindergarten, I remember conning every kid in the class to trade their time on the easels so that I could have more time to paint. One summer before fourth grade I saw Jon Gnagy on TV (a guy who looked a bit like Anton LaVey). I begged my parents to buy me the art set he was selling for my birthday, willing to forego any other gift forever or longer that a child could hope for if I could only have that one thing. To my surprise and still to my delight, they got it for me. I have never been the same.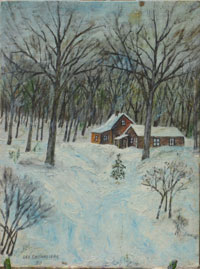 Drawing and painting became a passion for me from that point on. At ten years old my grandfather, Leo Croisatiere, who was an accomplished amateur artist, took me under his wing as a painter in oils. He gave me a wooden art box filled with nice brushes and several tubes of oil colors and a palette. This beat the crappy paint by numbers junk I had been using. He also gave me some books. I still have all of that stuff for the most part. Grandpa was the single most influencial person in my early life as an artist. I wish that I had more of his work to display here. I hope to locate some of it for viewers, but for now, the pieces from my collection shown here are sufficient. They are early, and like my early works seen below, they do not display the greatness that he ultimately achieved. In a sense, this section of the website is a tribute to him.

In sixth grade I was making posters for events that were sponsored by my church (Community Gospel Tabernacle). By seventh grade I received a scholarship from John Muir Junior High School in Milwaukee, WI to a semester of study at the Milwaukee Art Museum. One other student from the school received a scholarship, Tom Alioto, who's father was an accomplished artist in the Milwaukee area, and owner of Alioto's Restaurant. His father drove us to the museum for our classes. There I saw works in progress by our teachers that immediately changed my perspective on how art is done. My "Egg Plants" is a work reminiscent of what I saw there. During this time I also began experimenting with blue Bic ball point pen. "Boston in Blue" is an early work reminiscent of those works, but of a later date.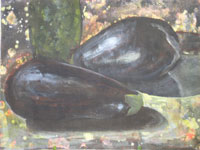 As a teenage artist I experimented with various genres, moving through Cubism and Surrealism to Abstract Expressionism and finally Impressionism. I read books about the artists, especially Dali. But I grew weary of what appeared to be pointless, or at best self-absorbed nihilism. Dali was, in my final estimation, a sexual deviant and a narcisist, and his works devolved, like Picasso before him into little passion plays about his own sense of inadequacy. I did not want my art to reflect my whining against the universe or the pointlessness of life. The Impressionists sought to display life and the world around them as it immediately affected them, without becoming introspective. Unfortunately, introspection and psychological feeling-oriented nonsense dominated the art world after Van Gogh.

On the other hand, Van Gogh opened the door to the Expressionist movement, which lay dormant for several decades. It was not until the synthesis of modern expressionism and the deconstructionist tendencies of abstraction came together that we finally arrived at a truly American form of art in Abstract Expressionism. American art was post-modern, and proved that Euro-centric art was passe'. Art was no longer about history, or reality, or even about feelings, although all these things could be a part of art. Art was about art as a thing in itself. The canvas was not a picture. It was a thing in itself. Everything was about the "picture plane", the push and pull, all in relation to itself and no longer some outward existant; art was the force and value of the very piece and its setting. (This explains the post-modern tendency to create a neutral environment of hard architecture, large negative space and plain white walls. The setting is intended to add a visually negative atmosphere that essentially "floats" the artwork and enhances its capacity to be viewed alone. This is also why I have chosen to display my individual pieces on a black background, which strengthens the picture plane for a digital or on-line gallery.) It was art for art's sake. This monumental challenge to modernism forced the art world to reconsider the value of representationalism. Ultimately, the abstract expressionist movement gave rise to artistic freedom to experiment equally with representationalism and non-representationalism. Art was finally liberated from old European academic restraints as well as from the modernist tendency to view everything only from the perspective of a challenge to the status quo.

Throughout the eighties I seriously considered leaving my job to become a full-time artist, but by that time I had a family to support, and artists don't make a living, and people with a conscience don't quit their jobs to become intellectuals living off the state. In 1989 I had a near death experience. (Some would say I was in fact dead, but revived. Whatever.) For the next year I was in rehabilitation to greater and lesser degrees. I spent a lot of time seeking out who I was supposed to be after that, and ultimately realized that my commitment to my wife and children was more important than my art, but also that my art was not incompatable with my daily life. In fact, the greatest art is the life revolving around my God, my family, and my Christian sensibilities. As a result, I began to pursue my art through other art communities that were dedicated amateur artists with a few professionals in them. I could be an artist in my spare time and maybe even get some limited recognition. And that was really all I needed. Just someone to say I was doing alright as an artist even though my art took a seat behind my responsibilities as a husband and a father. Art and life no longer had to be seperate pursuits. The mythology created by Van Gogh of the artist at odds with the world, incapable of synchronizing artistic endeavors with economic necessities, was coming to an end. It was becoming clear to me that the most influencial and creative artists of historical significance were men and women who were first committed to their families and communities and were good businessmen as well. Successful artists are those who are integrated and influencial in the social fabric even outside of their art.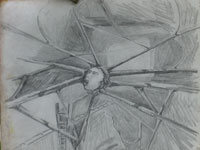 During the 1990's decade I joined several local art groups and also began entering my work in local, regional and national shows. The first group I joined was the Milwaukee Seven Arts Society. SAS had a long history going back to the 1930's. The painters' group was all that survived to my time. Owen Gromme' (painter of most of the diarammas on view at the Milwaukee Museum and also the premier wild-life artist of the earlier part of the Ruffed Grouse Society) had been an early member, as well as had been several other important regional artists, some of who's work is still on display at the Milwaukee Downtown Library. By the time Patty and I joined SAS, the group was a lot of old people. But some of them were still recognizable figures in regional art, although quite inactive. After several years in SAS, because we were the youngsters of the group, and everyone else had grown old and recalcitrant, we were elected as President (myself) and Treasurer (my wife) of the group. Of course, this meant that we were responsible for every single thing that the group did. So we set up all the meetings and shows. We became the face of SAS for the last few years. Finally, as a group, we voted to disband. In the process of disbanding the SAS Patty and I gathered together works from all the members at that time for submission to the University of Wisconsin Milwaukee Golda Meir Library Archives. All Seven Arts Society documents that we could accumulate, including financial records, minutes, shows, and even much art work (including my own and Patty's) are available there for viewing.

Another local group that I was a part of during the nineties was the Wauwatosa Artists' Workshop. They are still in existence and are on FaceBook. Patty was not a member. We were both members of another group in West Allis for a while, although I can't remember the name of the group.

I have several award banners for my art shown below for my art, including:

Best of Show ribbon for the A/C Art Exhibition (Spring Break, oil, 2004).

Roswell Fine Arts League (Roswell, NM) Third Place ribbon (Dusk at Havenwoods, oil, 1993, national juried competition).Not sure what painting this was any more.

First Place Blue Ribbon, Best of Show, Seven Arts Society, Survivors, oil, 2001. (Not sure what this was.)

Merit Award, Seven Arts, Fall 1996. Pirates. Watercolor.

Special Award. Viewers' Choice. Seven Arts 1993 Exhibit. Cottonwood Cousins. 4/18/93.

Merit Award. Seven Arts 1993. Lakefront Trees #4. oil.

Several of my pieces are in private or corporate collections now, including works at Banner welder, Inc., (care of Gay Valcoun), Chris Stern collections, The family of David Lang, and many others.

Thank you to all of my supporters and collectors. You are the people that make art a life worth living.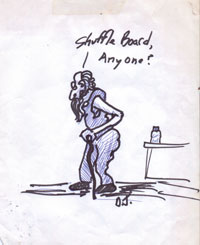 View Artists' Portfolios.

Thirty Paintings in 30 Days September 2017

Newest Work From 2013 -2017 by Douglas Jerving

Later Paintings by Douglas Jerving

Earlier Paintings and Studies by Douglas Jerving

Sketches and Scraps by Douglas Jerving

Paintings and Sketches by Patty Jerving

Paintings and Sketches by Faith (Jerving) Ferra

Paintings and Sketches by Leo Croisatiere

Paintings and Sketches by Other Related Artists